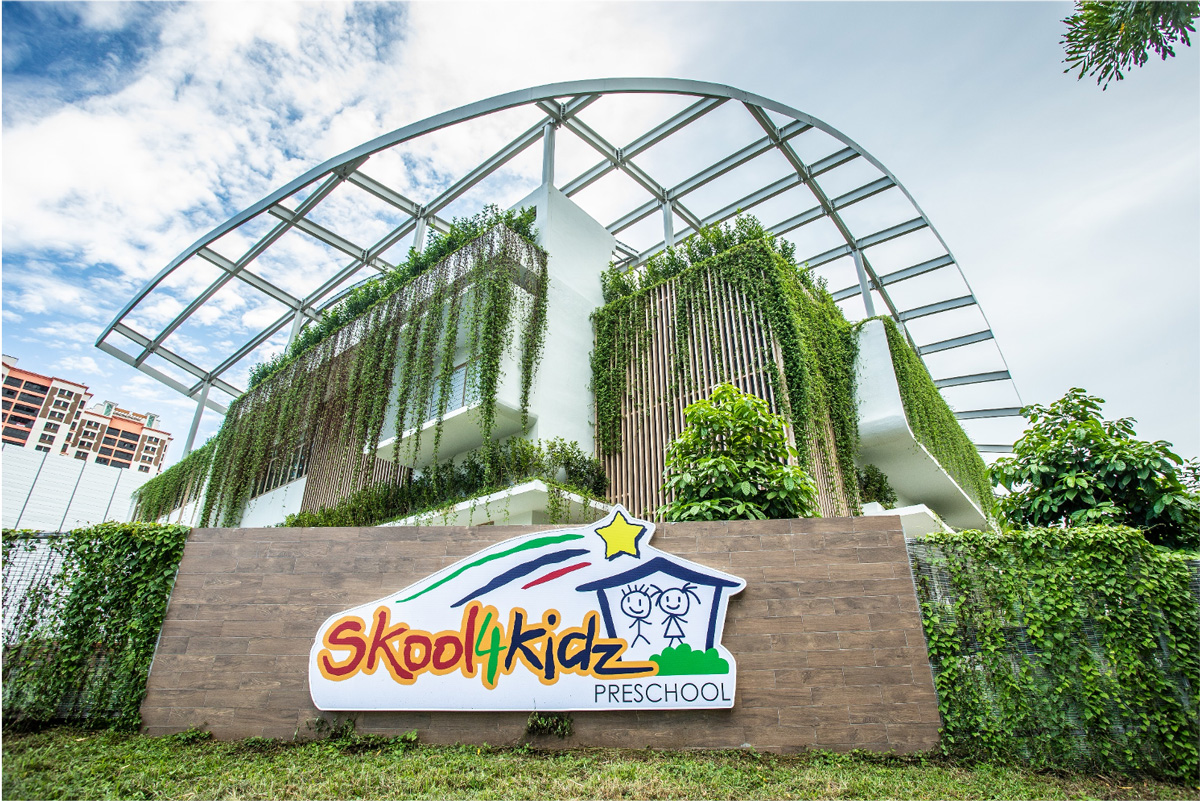 Every day is a wonderland at the Skool4Kidz Campus @ Fernvale. Every activity space within the Campus strives to stimulate, promote creativity and imagination in the children.
The variety of physical, constructive, creative play and learning areas allow our children to engage and discover, grow intellectually, socially, emotionally, and physically.
The smart application of technology with outdoor learning curriculum will be the focal when your children is enrolled!
With over 40 years of rich early childhood know-how, Skool4Kidz Preschool ensures your child's well-being, growth and development.
Our curriculum's approach is thematic-based, holistic and inclusive. We nurture preschoolers to develop critical 21st-century life skills through a balance of outdoor play and interaction with technology including child-friendly tech-bots and even augmented reality. These cultivate Technology savviness to aid preschoolers' Out-of-the-Box thinking for life. Through these, young children build sequential reasoning, active problem-solving and the confidence to be creative.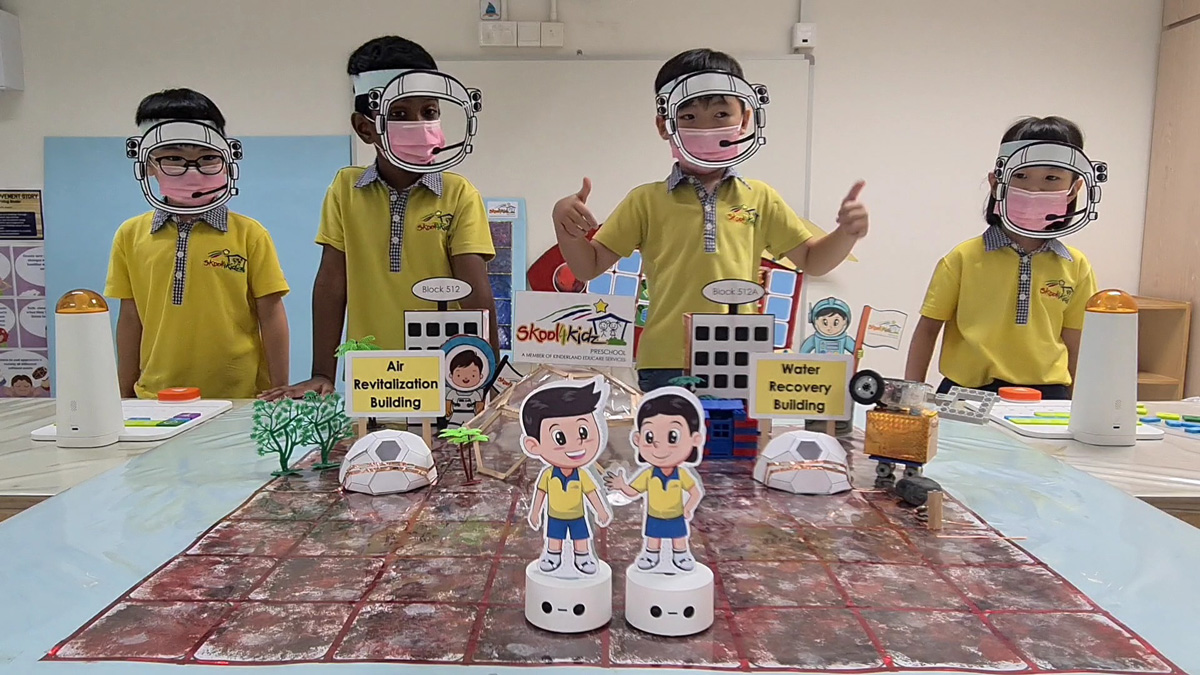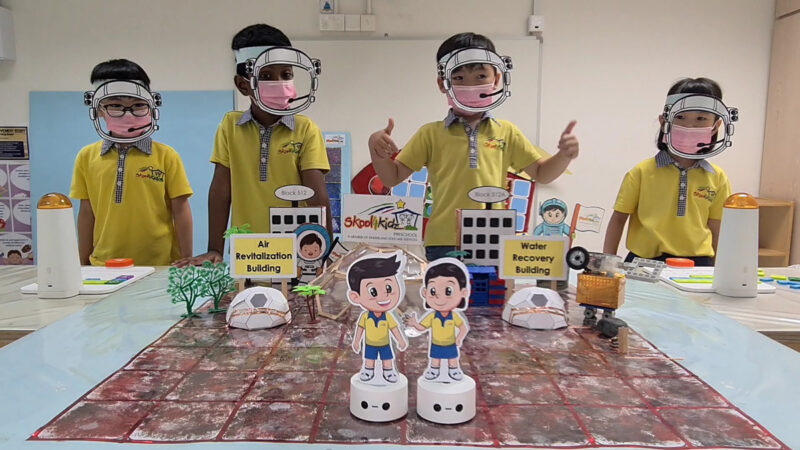 The little ones at Skool4Kidz won second prize in the the MatataWorld Robotics Competition (MWRC). The competition is a global robotics event that aims to improve children's all-round skills through fun and challenging coding activities. Our team named 'Skool4Kidz Space Explorers' from Skool4Kidz @ Yishun Oleander Breeze, won the 'Matatalab Creative Star Year Award'. Organised by technology education company Matatalab and themed 'Space Exploration', the competition is designed to increase children's self-confidence in science and technology. It also helps them apply what they learn to solve real-life problems, explore and create a new world of their own.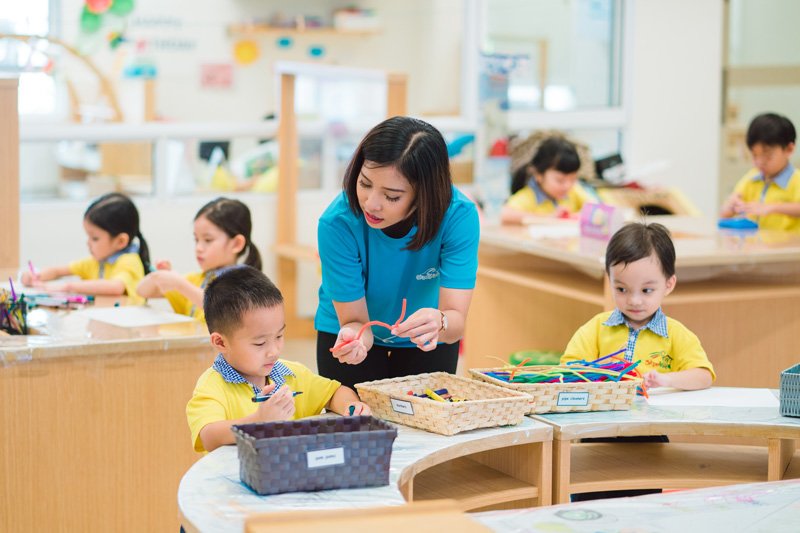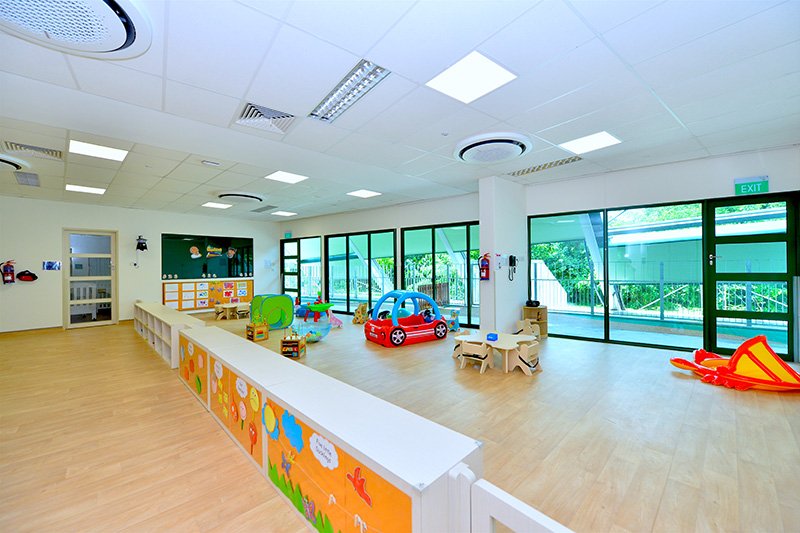 Our Campus features
Biophilic Garden that encourages outdoor learning, promotes imagination and sustainability.
Kidz City Traffic Park to experience real life road situations and learn the importance of road safety.
Art Nest and Culture Hub to build creativity and linguistic ability.
Fun Deck to stimulate curiosity through materials and experiences, and develop motor skills and control.
Healthy Meals which are planned by in house nutrionist according to the Healthy Meals in Preschool Programmes (HMPP) Guidelines.
Skool4Kidz Campus @ Fernvale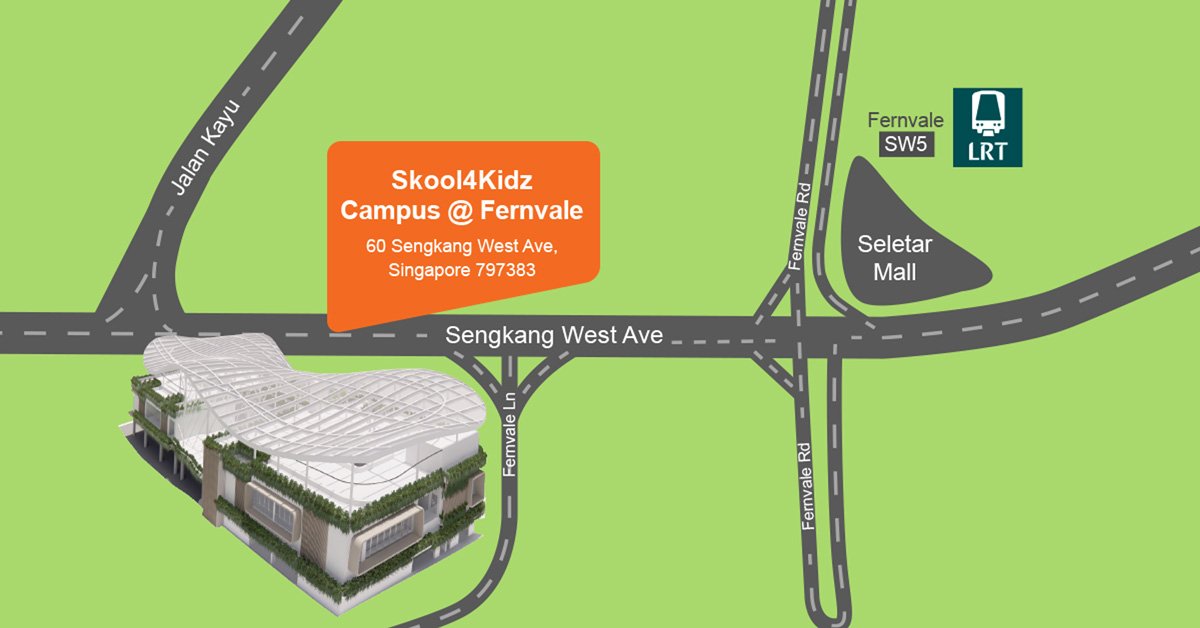 I always hear of parents lamenting how difficult it was to send their crying child to school. I am glad that I do not have such an issue as P***** is always happy going to school.

Special thanks to the teachers in Skool4Kidz for making school fun and enjoyable. I am sure all of you made an impact and created wonderful memories in the childhood of every child who attended the school. Kudos to Skool4Kidz!
Dear Mrs L**, Teacher D* and Teacher K*****, thank you for your patience and efforts in teaching J** W**. He has improved tremendously in his speech, comprehension and social skills since he started school in Feb and I must say it is a result of all your efforts. He loves going to school, and has picked up many new skill sets.

Wishing you all joy and happiness, and a Happy Teachers Day!
Skool4Kidz has made S*** learn to take the first step. As parents it is impossible for us to stop worrying about our child's future. But at the back of our minds we are at peace because we know our child is in good hands of teachers like you.

Thanks for always taking care of him and the amount of your contribution to our kid's life is something that cannot be explained in words, we are more than grateful to you! Thank you!
Dearest Teacher B** and X* Laoshi,
We want to let you know how grateful we are to have you as J***'s form teacher. Your teaching style really engages him and gets him pumped up and excited about learning. It's wonderful to see him coming home in a very happy mood, with wonderful things to say about you and share what he has learned in class. We appreciate all of your hard work and the positive learning environment you provide for him and help him grow.

To all Skool4Kidz teachers,
We are so happy that our child is enjoying preschool. It's not easy to send our first child to school, but seeing how he had been cared for since his Playgroup until K2, it's a breeze. And we know we have you to thank for that. The activities you plan, the room you decorate, the friendships you help foster – it's all incredible, and it's helping our child (and us!) believe that school is fun, which is incredibly important.

Thank you for such a wonderful preschool year, and we believe his learning journey had helped him be ready for his onward journey to Primary school.
To the Teachers of Skool4Kidz, I would like to wish you all Happy Teachers' Day and from the bottom of my heart, thank you all of hard work that you have put to educating and instilling good values for all my four children. Even during this pandemic, being an essential workers as myself I value your time taken to sacrifice for all the students in the school. Kudos to all of you and again thank you very much.
To Teacher N****, Teacher W*** and Laoshi

Our once introvert child's personality has bloomed open like a beautiful fragrant flower ever since being tended by a lovely gardener in the form of a teacher like you.

The school may have found a teacher in you, but our child found a hero in you.

Happy Teacher's Day!
Kudos to Teacher M*** and W* Lao Shi, for taking good care of A**** and inculcate good habits on behalf of us parents. Appreciate the efforts and patience for him. Definitely can compare the difference in his previous school he attend. Nonetheless, would like to thank both teachers for working tirelessly especially during these times of pandemic.
Thank you to all teachers for your support and efforts during this pandemic. Thank you for always taking good care of our kids so that we can concentrate on our work without worrying about the little ones. I have joined the online lesson with my boy and I understand how much effort and creativeness teachers had put in to make the lessons more fun and understandable to kids.
Kudos to all teachers especially to S*** Laoshi who understand my boy's strengths and weaknesses very well and always give us good advice on how to help Gavin in his studies.
Happy Teacher's Day! I feel that apart from healthcare workers, Teacher's deserves the equal amount of recognition. We parents appreciate what you all have contributed. The hard work, the knowledge and also the love you have given to our children. It is very heartwarming to come home and see my little one telling me the new things she learnt in school. For example, Z**** counting and singing in Mandarin! Dance moves that she tries to teach. How she became a Doctor. I know Z**** enjoys her time in school. All thanks to her lovely teachers. Thank you very much for everything that you have contributed.
We would like to say our heartfelt thanks for teaching I***. We understand it is not easy, especially with his speech and language development, so we are grateful for the endless support and patience since he started school. Special thanks to Ms A**, for constantly updating us on Izan's development, be it in the Comms book, on the call or face to face. Also to Laoshi, for the regular updates in the Comms book. It makes us happy he is progressing in school, and very pleased to know that his teachers are dedicated and are willing to go the extra mile towards his learning. We appreciate it very much. THANK YOU!
To Teacher S***** and L** laoshi,

Thank you very much for taking such good care of my daughter. I'm impressed how you can always stay so calm regardless of the situation. I appreciate all your love, effort and care towards my daughter. You have made school fun and I know I can leave my daughter in school without worries!

Thank you and Happy Teachers' Day!
We would like to appreciate all the teachers on their effort to teach, nurture and groom my daughter to be a better person at her age.

There's no words that can describe to show our appreciation to you teachers.

Thank you teachers and happy teachers day!