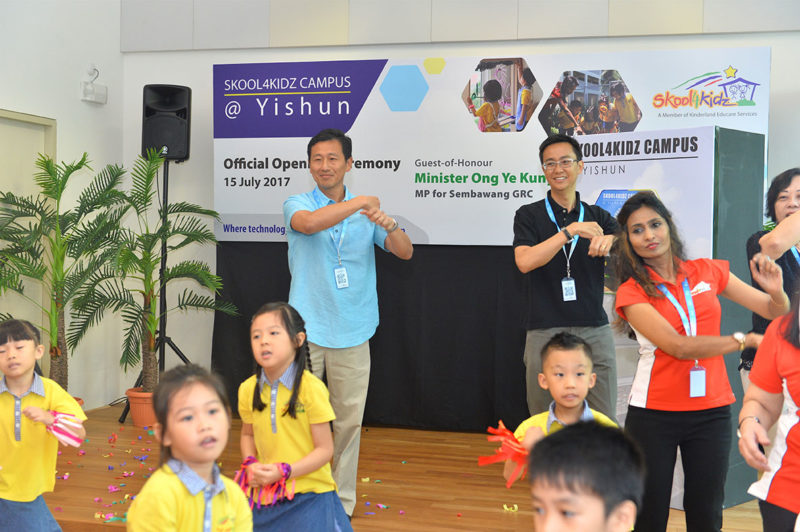 Minister Ong Ye Kung, in bright blue shirt, joining in the fun with children in a dance item at the official opening of Skool4Kidz Campus @ Yishun on 15 July 2017, after extolling to teachers and parents the importance of making "learning a joy" for their kids.
Mr Ong, who is the Minister for Education, Second Minister for Defence, and Member of Parliament for Sembawang GRC, had earlier placed the final piece of a jigsaw to complete a composite of images depicting the strong partnership between Skool4Kidz, the Early Childhood Development Agency (ECDA), the government and the community, to bring affordable quality childcare service to the residents in Yishun.
He spoke briefly about the importance of making learning a joy for young children to encourage them on the path of life-long learning, including digital learning, so that they can be better prepared for the future.
The Minister toured the two-storey premise to learn about the various facets of learning in Skool4Kidz, and how technologies are leveraged in a calibrated manner, to make learning fun and engaging for the children. The centre is a showcase of the Skool4Kidz concept to stimulate exploring, experimenting and learning with an abundance of hands-on activities in various indoor and outdoor environments – making early years learning truly fun.
There is a fun water-play area and a 2-storey-slide at the open-air atrium. In addition, a community herb-garden and a butterfly garden gives children real-life lessons on botany and agriculture. A specially-designed outdoor Atelier inspired by the internationally-renowned Reggio Emilia allows children to use various art materials as well as other mediums such as recycled and natural materials to express their ideas in a "hundred languages".
Some 120 guests attended the official opening ceremony, including parents and their Skool4Kidz children, and representatives from various stakeholders, partner organisations and industry colleagues. Mr Eugene Leong, the CEO of ECDA, was present to grace and support the occasion. Skool4Kidz was represented by Mr Robert Leong, Executive Director of Skool4Kidz, and Dr Jane Ching-Kwan, Director and Curriculum Founder of Skool4kidz.