Welcome To Skool4Kidz Preschool @ Marsiling Drive!
Skool4Kidz Preschool @ Marsiling Drive is the first Skool4Kidz preschool to be established. Since we started in August 2014, we have stayed true to our aim of providing good quality, solid early education at affordable fees. For the coming years, this too is our assurance to parents and children coming through our doors.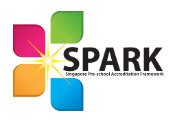 Skool4Kidz Preschool @ Marsiling Drive is a recipient of the SPARK (Singapo​re Preschool Accreditation Framework) certification. Awarded by the Early Childhood Development Agency (ECDA), SPARK certification is an endorsement of the quality of a preschool and its programmes.
What Parents Say
Dear Teacher Tine and Ding Laoshi,
Thank you for all the time and love you ladies have given to the N1 pre-schoolers. They are at a stage where they are exploring every single thing with maximum curiosity. Without the love and guidance, they wouldn't have progressed so well and develop so finely. Keep up the effort. It's very heartening to see all the kids dashing to you both, mentioning the teachers name despite being at home.
Dear Ambrose's Teachers, thank you for taking such good care of Ambrose making him happy and always attends to his needs and wants when parents are busy.
We really appreciate your effort. Keep up the good work!
Thank you T. Azilla, T.Jess & Kang laoshi for being so patience & caring for Claire. We saw her transformed for the past 2 years. Thank you once again!
Thank you T. Tine & Ding Lao Shi, T Fara for taking such good care of Olivia so that we parents can go work at ease. Glad that she was given opportunities to learn & develop her social, motor skills in school. We saw that she is more independent now. Thank you Ms & Ms Andrea for the strong backup too.
Dear Teacher Nurul & Chen Laoshi,
Thank you for all the effort, love and care you guys have given to Jovin during his journey in Skool4Kidz. He has been very blessed to have you both as his teachers guiding him with all the patience that you have. Without the time and love you two have provided, Jovin wouldn't have grown up to be this sensible. Thank you for working so hard for the kids! All the children in K1 definitely loves the two of you. Keep up the good job and effort in cultivating and nurturing the pre-schoolers!
Dear Teacher Puspa and Deng Laoshi
Thank you for your patience and caring, kind words and sharing. We just want to say THANK YOU.
Dear Teacher Tine, thank you for always being so patient witb my child, making efforts to update me regularly on her condition/ learning in school.
Greatly appreciate all teachers for contributing to yu chen's learning and development. Without u all, her speech and language wont improve so drastically and we were impressed to see how her colouring skills have improved. Thank you for all your patience and encouragement in this growing journey of hers. Keep up the great work and we look forward to more fun and joy with Skool4kidz.
To: Teacher Christine & Teacher Ding,
Thank you for your patience, putting up with my little girl and encouraging her in every way.
Happy Teachers Day to you !
Wishing you joy and happiness, you are an amazing teacher, and you only deserve the best!
Kuso to all teachers guiding and teaching Yu Xuan. She has benefited greatly from Skool4kidz beyond our expectations. Both teachers really go all out to develop her interest in learning. Greatly appreciate whatever the teachers have contributed and have a great Teachers' Day celebration!
What Teachers Say
Its been less than a month since I have joined in the family of Skool4kidz and I must admit that it has been more than a pleasure to be present at work every day looking forward to delivering good knowledge to my kids. Being a Tamil language teacher has always been my passion and being given the opportunity to work with kids of different levels has taught me a lot more than I thought I would have known. I can see that I have much more to gain while I give as well. Looking forward to establishing my career path with the warmth and love of all the little ones and the wonderful teachers we have.
自从做了幼师这个职业之后,爸妈总是说我现在是老小孩,朋友总是说我越大越幼稚,可我却感觉自己仿佛又回去了童年。我用我的爱心,细心责任心去照顾每一个孩子,我爱这群小淘气们,虽然有时候真的把人气的牙痒痒。我喜欢我的职业,喜欢整天和孩子呆一起,因为孩子是最单纯纯真的,总有小朋友说:"老师我要把我最喜欢的东西给你,老师我要带你去哪里,老师我不要你回家"等等。当听到这些话的时候,我感觉不管我工作一天下来有多累,都觉得特别值得了。
As a teacher in Skool4kidz, I have experienced many firsts. I was given the trust to organise events for my centre. It was a memorable experience as I see everything comes together with my other colleagues' help. Without my principal's guidance, I wouldn't be here today. Thank You to Marsiling Drive parents and children for being such a joy in our lives!