Welcome To Skool4Kidz Preschool @ Tampines GreenLeaf!
Children learn best by creating, exploring and discovery. Through our time-tested integrated thematic curriculum, our well-trained and dedicated teachers are able to engage the children and ignite their innate curiosity to create, explore and discover.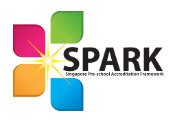 Skool4Kidz Preschool @ Tampines GreenLeaf is a recipient of the SPARK (Singapo​re Preschool Accreditation Framework) certification. Awarded by the Early Childhood Development Agency (ECDA), SPARK certification is an endorsement of the quality of a preschool and its programmes.
What Parents Say
Appreciate Teacher Siti for the patience and guidance that they have given to Dexter.
He really enjoys the lesson.
Dear Teachers, I know it's hard work to juggle between the children daily. Thank you for taking extra care of my girl due to her severe eczema condition.
Special thanks to English Teacher, Ms Nabilah and Chinese Teacher, Ms Lin. Your love to the children and your dedication to the education industry has earned a lot of respects from parents. I'm sure my child will be sad when they leave for P1 by end this year.
Thank you for creating such a fun n educational environment. Thank you Teacher Siti for being patience to Sage and nurturing her.
Thank you Teacher Nabilah for being patience and always giving the children support and encouragement. I'm so glad for teachers like you who really made a difference in a child's life.
Dear T Cheng, T Eqa, T Linda & T Ayu, thank you very much for looking after Alyssa so well. It gives us a great peace of mind to know she's in very safe hands while we're at work. We really appreciate the efforts that Teachers put in to engage the infants in hands-on activities and to understand the different cultures in SG. Thank you also for your advice as we go through this journey as first-time parents. HAPPY TEACHERS' DAY!!!
he teachers have been engaging parents over the school year and we find it very constructive. This keeps us informed on Hazel's progress throughout the year. The class dojo app has also helped and give us an instant communication channel. Please keep it up and you have done a good job.
Thank you for your patience and guidance!
Teachers Zila, Ayu, Siti and Chitra

Thank you for being there for Imran all ways always!

No amount of thank yous can compensate your dedication towards our child.
What Teachers Say
It has been a fulfiling experience being an educarer. As teachers, we get to watch the developments of our children and nurture them to follow an ideal path for each individual. We observe, identify and highlight the best in them and ensure to meet their learning needs. Some of the things I learnt, while being part of Crestar Education Group, include fostering positive relationship not only with the children but also with parents and colleagues. Cooperations from all directly involved parties have shown tremendous improvements in a child's learning and development. At the end of the day, it is quite heart-warming to love and be loved by the children whilst watching them grow.
Teaching for me means making a difference for all children. It means helping them succeed and allowing them to pursue their passions by supporting them along the way. It means giving the children ownership over their learning and helping them learn.
Being a teacher here has been a fulfilling journey as I get to learn a lot of things.
感谢总部给老师的花红,是对老师最大、最实际的祝福和感谢!
Education for me is not only a job but a passion. I am convinced that to educate good generations, it must start from the infant period, not only academically, but also must contain the charm and character of education, to cultivate a good next generation.
I have been in this industry for more than twenty years. I love children and the passion in me inspires me to stay in this industry for long. As a preschool educator, it is my responsibility to nurture and lay the foundation for the young ones to cultivate as they grow up. I have children who have graduated under my care and they are doing well in their academic. These children recognised me outside, greet me and shared their secondary school experiences with me. For me, this is a good vibe are achievements that I have achieved as an educator. I love teaching and I am very proud of my profession. Teaching is the best job. I enjoy every bit of my job. It has its ups and downs but on the whole, it's fulfilling when I help the young ones to achieve their goals and leave the preschool with some knowledge that helps them in their future.