Welcome To Skool4Kidz Preschool @ Senja Parc View!
Skool4Kidz Preschool @ Senja Parc View's teachers actively engage children in projects with a focus on inquiry-based learning to spark their curiosity and enthusiasm to learn new things.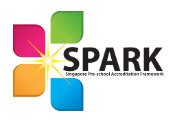 Skool4Kidz Preschool @ Senja Parc View is a recipient of the SPARK (Singapo​re Preschool Accreditation Framework) certification. Awarded by the Early Childhood Development Agency (ECDA), SPARK certification is an endorsement of the quality of a preschool and its programmes.
What Parents Say
A heartfelt thank you to all the teachers who spend their time, energy, and love to care to educate our children. Happy Teachers Day!
Teacher Ezra and Ms. Liao, thank you for being so patient with my whiny kimi girl.. She has learn to keep and say a lot of words and share her days with me.
She will say that singing is fun and all.
For the other teacher who has help. Thank you so much.
Dear Teacher Li, Teacher Dorothy, Teacher Kai & Teacher Liza
Thank you for being such an amazing teacher to Elias! Just wanted to let all of you know that your hard work, patience and efforts are very much appreciated.

Happy Teachers' Day!
The best evidence is when the child looks forward to school – Bosco looks forward to going school EVERYDAY! Thanks Teacher Tan, Chen, Athirah, Chelsea & Su for your dedication and energy in creating a great learning environment for the preschoolers. It is the supreme art of the teacher to awaken joy in creative expression and knowledge. Thank you Teachers!!
To Teacher Suhana, Teacher Fathin, Liao Laoshi
Thank you for teaching Luna Ayra and making her a wonderful girl that she is.
Thank you to Ayra's teachers for your patience in taking care of not only my child, other children too. I know it's not easy and very tiring yet you choose this noble job. Your passion in teaching and care for the children deserve my respect to you. Happy Teachers' Day!
To all N2 Teachers
Greatly appreciate your patience and love in teaching Ezekiel.
Our heartfelt appreciation to all the teachers in Skool4Kidz @ Senja Parc View who spend their time and energy to educate the children and showering them with love. Happy Teachers Day!
Dear Teacher Dorothy, Teacher Liza & Li Laoshi.. let me begin by saying that I don't know where you find the patience, strength, and energy to deal with me and my classmates every single day. We know we are a handful, but you always keep your smile and composure. You are very much appreciated! Happy Teacher's Day!
We wish all the teachers who enlighten young minds every day. We salute everyone who has been a part of building the future of our nation. Happy Teacher's Day!
What Teachers Say
Teaching means reaching out and getting along with young children.
Any activities need to be planned so that the children could make exploration and the teacher has to make the explanation of their findings.
在幼儿园教学,会让我觉得我是一个有价值的人。看到幼儿们的进步,我会觉得特别自豪,那是做任何一件工作,都替代不了的。我感觉小朋友就是未来,就是希望,他们需要一个好的老师,来带领他们前进,我也希望我会是一个好的老师。非常荣幸能在他们人生的前几年陪伴他们,从他们身上,我也学到了很多东西,让我受益终生。