Welcome To Skool4Kidz Campus @ One Punggol!
Proclaimed as the new "Heart of Punggol", One Punggol is envisioned as "a place for the community to bond, interact and learn". It is designed "to blend the nostalgia of the past with the futurist vision of Punggol".
Skool4Kidz Campus @ One Punggol is located within this vibrant Community Hub. It is appropriately conceived for children to learn, experience and feel their connectedness with the people, environment and community. This reinforces our ongoing efforts to nurture young children with values of caring for themselves, their family and others in the community.
Building relationships and partnerships with parents are crucial to the success of every child. We partner every parent to provide stability between the home and the preschool and work towards meeting each child's developmental needs.
The partnership with St Luke's Eldercare imbues a meaningful and transformative intergenerational programme to enhance the relationships of our preschoolers and the elder generation. Children learn to internalise respectfulness and exhibit behaviours towards peers and elders that make them feel cared for and important. We empower children to be future-ready as they learn to interact with elder buddies confidently and comfortably through age-appropriate activities.
Our campus purposefully blends into the Community Hub's environment to provide learning activities that promote physical health, positive behaviour and social connections. It has the capacity for 500 children, including 50 infants.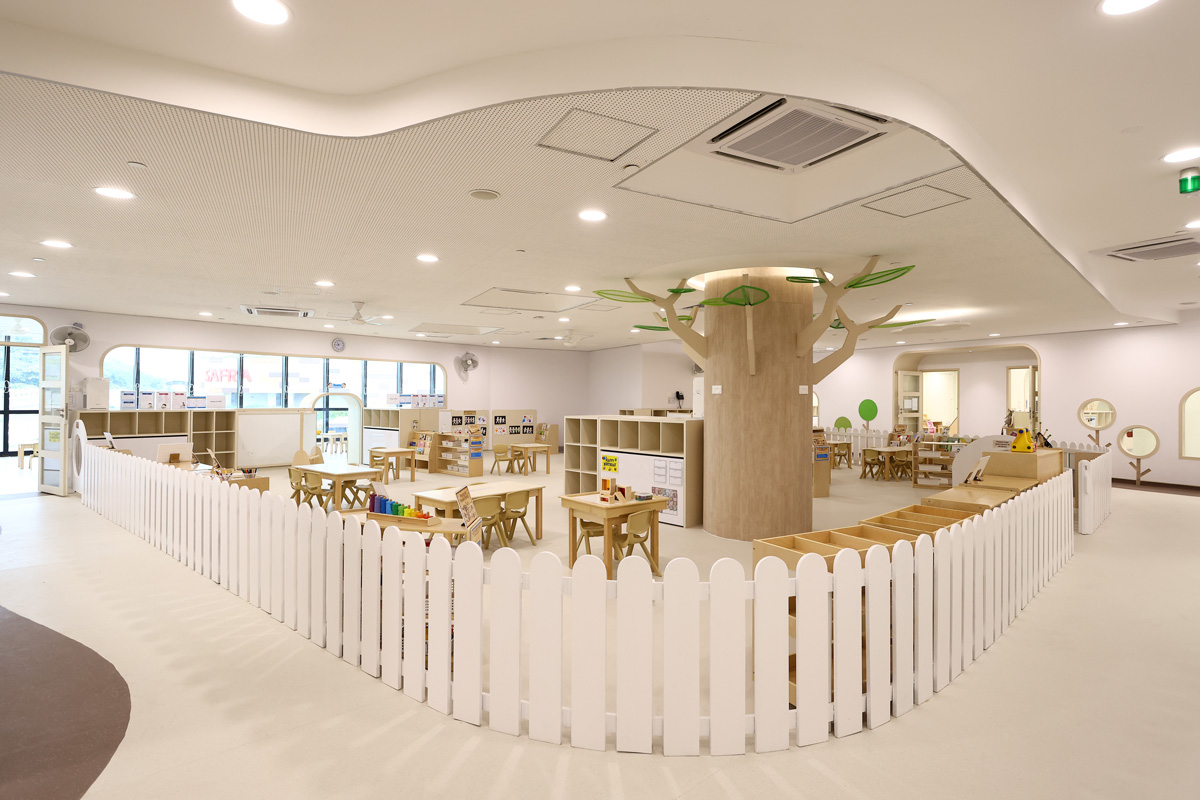 The Punggol estate is resplendent with nature and its beauty. It provides the inspiration for our campus to infuse its learning spaces with the ambience and feel of nature. This nature-inspired design creates safe spaces that connect children to nature. It evokes an outdoor environment for learning and playing indoors.
A green space with natural and authentic materials created in each classroom serves as a provocative invitation for children to connect to the nature. We believe in the importance of a sense of place relating to our natural environment. Children explore the sensory properties of natural materials, create endless and timeless play and construct knowledge that is meaningful. More importantly, technology and sensory-rich materials are used to support our nature curriculum that promotes environmental protection for a green and healthy future.
Skool4Kidz Preschools' integrated thematic-based curriculum integrates various learning domains that allow our children to enjoy authentic learning and connects them to real-world experiences.
Have a look at our Skool4Kidz Campus @ One Punggol. Please click 'play' and select the blue points and/or move your mouse in all directions to navigate.