Welcome To Skool4Kidz Preschool @ Woodlands Ring Road!
At Skool4Kidz Preschool @ Woodlands Ring Road, our educators go the extra mile to identify the unique needs of each child and then structure the learning programme to meet the needs. Doing so goes a long way to help children reach their fullest potential.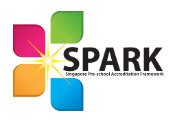 Skool4Kidz Preschool @ Woodlands Ring Road is a recipient of the SPARK (Singapo​re Preschool Accreditation Framework) certification. Awarded by the Early Childhood Development Agency (ECDA), SPARK certification is an endorsement of the quality of a preschool and its programmes.
What Parents Say
Dear Teachers(Anna, Zheng lao shi, Haslinda, Sophia),
Thank you for the patience and care.
Iryssa love every teacher in her class.
Thank you to the teachers for guiding him in his academic and building his confidence level. Special shoutout to Li Lao shi for having been the chinese teacher since N1 or N2. That provides continuity to the young kids.
To the world, you may be just a Teacher, but to your students you are HERO.
Thank you teachers for take care of my daughter.
Thank you Tr Siti and Nian Laoshi for their guidance to the class. Yu Xiang looks forward to going to school everyday, and now he has also started communicating in mandarin which he didn't before. It proves the imparting of knowledge on a daily basis is working well on him. Thank you for being patient all the time.
I'm very happy with my child every single day progress. Special thanks to Teacher Sophia and Han LaoShi . Because of your dedication, love and guidance our children truly gained essential learning that they should know.
Thank you to the teachers especially those who do morning duty. Shuyi is a clingy child and they help to calm her down every morning. And I can see that she has grown to love to go to school. At least she will now wave goodbye happily to me.
What Teachers Say
加入幼儿的教育和保育工作后,体会到对幼儿多观察、多关心、多爱护,有耐心的加以适当文化教育和品德教育,能够使师生之间彼此信任和愉悦,从而更容易达到对幼儿进行教育和保育的目标。
"They may forget what you said, but they will not forget how you made them feel." -Carl Buechner.

Modelling is a very powerful teaching technique, it reflected on the children's words, actions and behaviours. Being a preschool teacher, I believe that I play an important role in children's learning, growth and development. To be a good role model, caring, and shows positive behaviours towards the children. Children learn best when they feel happy, secure and comfortable with the teachers and the environment. I always want the best for the children!
The Principal and Senior Teachers at the centre go the extra mile to provide the necessary guidance for the teachers to be equipped with the necessary knowledge and skills on how the things run in the centre. (example, providing documentation templates and occasional meetings with the teachers)
Teaching to me means providing the children with opportunities to develop meaningful life skills for them to take home and remember throughout their life as they grow up.
I think to be a teacher is to be on your toes always. As teachers Its essential for me to be updated with current events, the progress of self, the centre & children's issues as well as knowing what is required of us to do in urgency. I find it meaningful as a teacher here and it is the best when the environment fills me with understanding.
I have enjoyed working with early years children and I have learnt a lot from them throughout my times with the children every day at work. With young children, it allows me to understand them well and guiding them as they grow each day. I learned a lot of education and learning growth activities that are appropriate for young children too.
To teach is to share not only your knowledge but also your concern, and above all your passion to enrich the lives of those around you, indiscriminately and unconditionally, in hopes for a better today and tomorrow.